Wednesday, July 21&nbsp&nbspIssue #34
Quick Note from Island Dave
Many of the article links, as you have surely discovered, require registration in order to view the piece. Kos has posted that everyone can simply use his registration info for quick access.
User Name = dailykos
Password = dailykos
If an email address is needed, use kos@dailykos.com
TODAY'S ACTION ALERTS
Now that the Senate shot down the FMA, it is time to
contact
your Representative.
Host a house party for Kerry/Edwards, or find a party near you to attend.

FEATURED ARTICLES
Hourly pay is not keeping up with inflation, an extremely troubling trend.
Oliver Miles of The Guardian (UK) argues that rapid disengagement is the only intelligent choice remaining in Iraq.
Human rights group hopes to reveal U.S. secret jails to the world.
Republicans, tired of living under the protections of a three-way balance of power, want to tell courts which cases they can accept.

ADDITIONAL ARTICLES
NYCity and 8 states enter lawsuit over power plant pollution.
Greg Palast looks at Kerry's introduction of "disenfranchised" into the campaign rhetoric.
The satirical but genuine Garrison Keillor chimes in on Democrats of the current day.
Bush takes information out of context...duh.
Canadians wonder who will protect them from the Al-Jazeera-like bias of Fox News.
Linda Rondstat was thrown off of Las Vegas stage for expressing her political views.

QUOTE OF THE DAY
"A citizen of America will cross the ocean to fight for democracy, but won't cross the street to vote in a national election."
-Bill Vaughn

TODAY'S BUSHISM
"We don't want to discourage the innovators and those who take risks because they're afraid of getting sued by a lawsuit."
-June 24, 2004

BLOG OF THE DAY
Its always good to read what my neighbors to the north think about the world, eh? Peace, order, and good government, eh? is not only for Canadians, but for anyone interested in a different perspective from those typically available in the U.S. or U.K.

BLOGWORTHY
Philip Carter at Intel Dump takes a lot at an exhaustive New York Times report about soldiers being bilked over insurance scams.
The Fulcrum's Charles2 takes a look at a WSJ article comparing "Two Americas" to two very different economic recoveries.
Is Jesus' General being spied upon? And if so, is it the French?
Neil Shah at Polemic Propaganda takes a look at Cheney's international legacy.
Dave at spacecoastweb:blog penned his recent experience debating politics with a conservative church member, and his approach is truly textbook. With more conversations like this one, this nation might be a bit less divided and able to have honest discourse about our problems.
Marc from whopundit shakes his stick at feckless self-loathing conservative David Brooks.

DRUG WAR UPDATE
Montana group gets medical marijuana initiative on November ballot.

LINK OF THE DAY
Know wha' I'm sayin'? Fo' shizzle! Let Snoop Dog translate any site from English to Snoopizzle with the Shizzolator.

SITE OF THE DAY
The Nation is a premier online mirror for the monthly magazine. Along with Mother Jones and American Prospect, The Nation is one of the last bastions of liberal journalism available to our nation. The site hosts numerous articles from some of the best liberal writers around.

COOL SITE OF THE DAY
What is cooler than spending time reading through old Doonesbury cartoons?

ONLINE VIDEO OF THE DAY
Tom Ridge is "The Minister of Fear."

CLAPS, SLAPS, AND THE MIDDLE FINGER
Claps to Senate Democrats for using a procedural vote to block the appointment of William Myers, an anti-conservationalist former member of the Interior Department, to the 9th Circuit Court of Appeals. The Democrats kept the nomination from coming to a final vote, and in essence, defeated Myers' appointment. Myers, who recklessly disdains environmental protections, would have provided arch-conservatives with yet another anti-progressive power player in the judiciary. Amazing, isn't it, how often Bush whines about "activist judges" when the only activist judges nominated over the past twelve years have been his?


Slaps to the 9-11 Commission which will apparently fail to state what has unfortunately become clear and obvious: the tragedies of 9-11 could have been prevented. In the Thursday release of the report, the commission will mark at least 10 occasions where opportunities were missed, but they will not go as far as the evidence suggests they should. The panel claims that while both Clinton and Bush administrations had chances to disrupt the plot, none would have clearly led to the blockage of the terrorist attack. Clearly, had anyone gotten just one of those chances right, I believe it is clear that the attacks could have been prevented. The key word is could. I don't claim that they would have been stopped, but it is painfully clear how short the Commission has sold its own value and influence. To suggest that success at any of those 10 opportunities would not have had a chance to disrupt the plot insults my intelligence, and unfortunately, keeps a great deal of the public as ignorant of the truth as they were to begin with...


My Middle Finger probes the corporate assholes of insurance companies which have scammed our soldiers into paying for unnecessary insurance policies. As touched on in the Blogworthy section above, the G.I.s are sweet-talked into purchasing coverage at prices much higher than the far superior government policy. While our military brass continues to focus on our current two front line battlefields in Iraq and Afghanistan, the overall state of the army, in particular, has degraded to the point of mediocrity. Stop-loss programs, Guard and Reservist call-ups, and allowing our soldiers to waste hard-earned cash are but a few signs of a dangerously overstretched army, one which is beginning to look more and more like an arthritic runner instead of the sleek sprinter it is billed as.

ANIMAL RIGHTS WATCH
PETA investigator video tapes Pilgram's Pride employee abusing chickens.
New rules in NC should improve animal shelter conditions.
Exotic pets typically face sad lives.

CANDIDATE OF THE DAY
Ginny Schrader may well be the most fortunate candidate this year. Her race in the 8th Congressional district of Pennsylvania took an unbelievable turn two days ago as her expected rival, incumbent Republican Jim Greenwood, decided to retire from the House and withdraw from the race. Schrader, whose campaign was going well but did not look promising, saw an enormous boost in her fundraising following the dropout, and for a while was taking in $3,000 an hour. With Schrader the sudden favorite to win the seat, the Democrats' chances of retaking the House jump considerably, especially considering that this was not expected to be a terribly competitive race.

DAILY PHOTO
Can anyone spot the terrorist?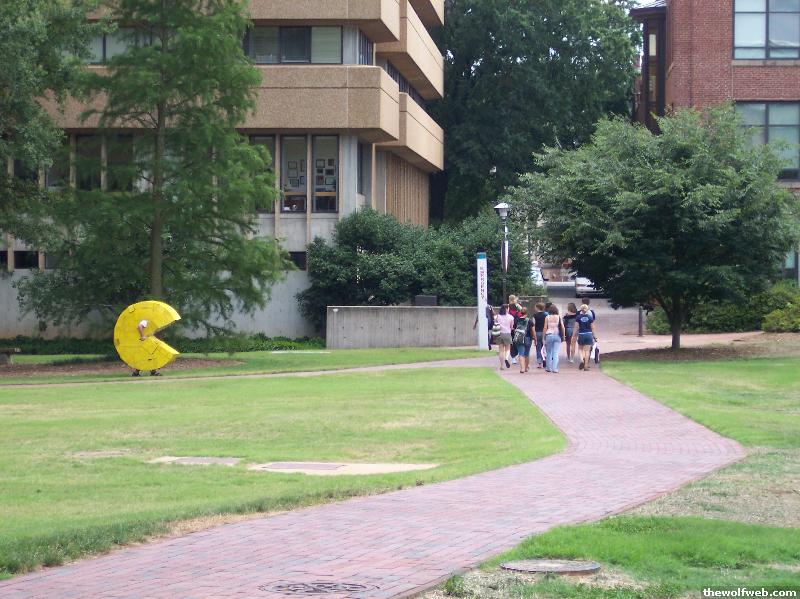 TODAY'S POLITICAL CARTOON




HISTORY LESSON
With the disgusting horrors turning up in Iraq bringing conversations back to My Lai, maybe we should take a moment to reflect on what that massacre, and what it said about our nation during Vietnam, and by comparison, what the sodomy, rape, and torture of Abu Ghraib say about us now.

STRANGE HAPPENINGS
I'm speechless.
I'm still speechless.
"Peace President"???